Featured, Ongoing, and Community Events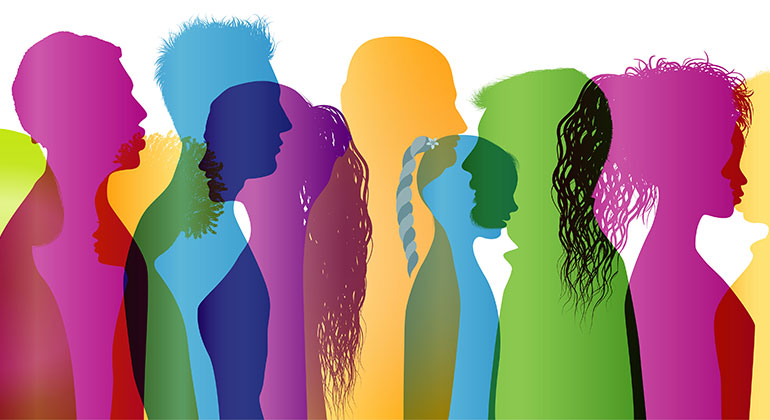 Featured Events
Events will take place in person or via Zoom unless otherwise indicated; all Mount Sinai faculty, staff, and students are welcome! For a complete calendar of events, please contact

diversity@mountsinai.org

.
 Thursday, May 18, 2023 | 6 pm – 7 pm
Center for Asian Equity and Professional Development (CAEPD) Townhall |Hybrid event
Location: Leon and Norma Hess Center for Science of Medicine, Davis Auditorium, 2nd Floor or via Zoom
The CAEPD Education and Research Committee would like to invite all AAPI faculty, staff, trainees, and students, and their allies to an interactive Town Hall. The Townhall will discuss taking steps to advance diversity, equity, and inclusion within the Mount Sinai Health System. For more details, visit Mount Sinai Daily and for questions, email CAEPD.Core@mountsinai.org
Monday, May 22, 2023 | 5 pm
Let's Connect | Racial Justice At Work
In this session, Pamela Abner, Vice President and Chief Diversity Operations Officer, will have an open conversation with Mary-Frances Winters, CEO of The Winters Group, to better understand resistance and the importance of racial justice to advance our system's antiracism efforts. Ms. Winters is the author of a new book Racial Justice At Work and her company is guiding our leaders in the implementation of the Road Map strategies. 
Let's Connect is a series of discussions to inform and educate you on how we are promoting and fostering an equitable and antiracist culture across the Mount Sinai Health System. Each session will allow you to learn about the progress of our Road Map for Action to Address Racism and provide you an opportunity to engage in meaningful discussion, offer feedback, and voice your perspective. 
Tuesday, May 23, 2023 | Noon – 1 pm
A Conversation on Asian and Black Solidarity
Join the Asian Resource Network (ARN) Employee Resource Group (ERG), for a conversation on Asian and Black Solidarity. This engaging conversation will touch upon topics such as the history of racial dynamics at the intersection of Black and Asian communities, how recent experiences have impacted these dynamics, and how relevant these experiences are to the Mount Sinai Community.

Join
Chats for Change

 

sessions – part of the Icahn School of Medicine at Mount Sinai's Racism and Bias Initiative – to engage in thoughtful dialogue on issues of race and bias in health care.
Next Session

:

Tuesday, May 23, 2023 | Noon – 1 pm



Social Media: A Tool for Racism and Anti-Racism
In recent years, popular social media websites such as Facebook and Twitter have been increasingly criticized for their role in enabling and amplifying old and new forms of racial abuse, hate speech, ideological extremism, white supremacy, and discrimination. With racist online discourse on the rise and many social media parent corporations reluctant to moderate socially harmful content under the guise of "free speech," what are ways daily users can take a stand against racism and bias? Join us for a conversation on how social media can call out racism, combat hate speech, and promote bystander intervention to make the digital environment safer for us and younger generations while navigating the nuances that may arise.

Upcoming Session:
Tuesday, May 30, 2023 | Noon – 1 pm
In the News
Join us as we critically deconstruct a current newsworthy topic related to racism and bias. We will use the What? So What? Now What? critical reflection model to explore what happened, what we learned from the event or topic, how we can apply this learning to our day-to-day, and if there is follow-up needed. One week prior to the session, we will share the newsworthy topic on ChangeNow
Community Events
Not affiliated with the Mount Sinai Health System


Saturday, May 13, 2023 | 10 am – 1 pm
Hope In Harlem Conference 

| In-Person Event
The Icahn School of Medicine at Mount Sinai is a proud sponsor of this free in-person conference that will bring together nationally recognized experts and community partners to share best practices around innovative mental health services in Harlem and the surrounding NYC area. Join us as we aim to build bridges between community-based organizations and hospital-based services to strengthen culturally inclusive care to serve vulnerable populations.
The conference will be offering FREE 3.0 CEU credits for Social Workers, Psychologists and Physicians for all sessions.



Saturday, May 13, 2023 | 4 pm

 
Prostate Van Screening and Prostate Cancer Education | In-Person Event
Location: Cornerstone Seventh Day Adventist, 138 Pennsylvania Ave, Brooklyn, NY 11207



Tuesday, May 16, 2023 | Noon

 
Lung Cancer Education and Screening | In-Person Event
Location: Liberty Hall Cathedral of Praise, 142-05 Farmers Blvd, Jamaica, NY 11434
Wednesday, May 17, 2023 | Noon

 
NASH (Nonalcoholic steatohepatitis) presentation and screening | In-Person Event
Location: 1581 Fulton Ave Bronx, NY 10457
Thursday, May 18, 2023 | 10 am – 4 pm
Mount Sinai Brooklyn and Mount Sinai's Robert F. Smith Mobile Prostrate Cancer Screening Unit Offer Complimentary Prostate Cancer Screening

| In-Person Event

Location: 201 Kings Highway, Brooklyn, NY 11234
Mount Sinai Brooklyn will host complimentary Prostate Cancer screenings with Mount Sinai's Robert F. Smith Mobile Prostrate Cancer Screening Unit. Screenings are on a first come, first serve basis. No appointment necessary. Stop by and get screened.
Thursday, May 18, 2023 | 10 am – 3 pm
Mount Sinai Brooklyn Host a Special Mammovan Screening Event

| In-Person Event

Location: 201 Kings Highway, Brooklyn, NY 11234 
Mount Sinai Brooklyn will host a special mammovan screening event for the community! Annual mammograms for women over 40 have been shown to save lives through early detection. Make an appointment for a mammogram screening now.
To register call 844-396-2666
Thursday, May 18 – Saturday, May 20, 2023 | Various Times
Black Health Presents Film Series "What is Normal?"

| In-Person Event

Location: Magic Johnson AMC theater, Harlem, NY
From May 18th-20th, Black Health will host a film series entitled "What is Normal?", focusing on challenges and solutions to the mental health crisis affecting black communities in the U.S., and specifically in NYC. The film series will take place at the Magic Johnson AMC theater in Harlem, NYC. Each film will be followed by an interactive audience conversation with an expert panel.
Tickets are free, and there will be free movie snacks and giveaways.
Film Schedule:
• Thursday, May 18, 2023, 6 pm – 9 pm | Title: "Our State of Mental Wellness"
• Friday, May 19, 2023, 6 pm – 9 pm | Title: "We Are NOT Alone: Honoring Our Experiences"
• Saturday, May 20, 2023, 3 pm – 6 pm |Title: "Dope is Death"
Saturday, May 20, 2023 | 10 am – 2 pm
Black Health Hosts a Community Mental Wellness Resource Day
Location: St. Philip's Church, 204 West 134th Street (Between Adam Clayton Powell Jr. Blvd. and Frederick Douglas Blvd.)
The resource day is open to all, and will feature wellness practitioners offering self-care classes, representatives from community-based organizations to provide resources for mental and maternal health, and fun activities for the whole family – including dancing and art!
Activities will run from 10 am to 2pm, beginning with a Self-Care class by Dr. Patrice Douglas at 10am.
Tuesday, May 23, 2023 | 10 am – 1 pm
Presentation on CANCER Clinical Trials-DISRUPT Presentation and Dinner
Location: 101 West 137th Street, 10039
Wednesday, May 24, 2023 | Noon – 1 pm
Turn intention into action with our DEI best practices webinar series  

| Virtual Event
This four-part series helps hospitals and health systems implement best practices in diversity, equity and inclusion using a quality improvement framework.
In the first session, Leading with Equity, Pamela Y. Abner and Shana Dacon-Pereira will discuss the fundamentals of DEI. Participants will gain an understanding of who they are as leaders, contextualize their background and perspectives and examine their comfort level discussing sensitive topics such as race and socioeconomic status with employees and patients.
This session will provide attendees with tools to engage in difficult, but necessary conversations, practice cultural humility, center marginalized groups, be inquisitive and question their assumptions. Do not miss out on the first webinar as it will be a great primer for the rest of the series!
Session details:
• May 24, 2023| Leading with equity
• May 31, 2023| Practical tools to advance diversity, equity, and inclusion
• June 7, 2023| Measuring the impact of DEI work
• June 14, 2023| LGBTQ+ best practices